Abstract
Background
The introduction of an heterogeneously catalyzed gold-based alcohol oxidation process of broad applicability using a clean primary oxidant would be highly desirable. Gold is non toxic and carbonyl and carboxyl compounds are widely used to produce medicines, plastics, colorants, paints, detergents, fragrances, flavors, and other valued functional products.
Results
The sol–gel entrapment of gold nanoparticles in hybrid silica improves gold-based oxidation catalysis applied to the selective oxidation of alcohols with aqueous hydrogen peroxide as eco-friendly primary oxidant. Pronounced physical and chemical stabilization of the sol–gel entrapped Au nanoparticles is reflected in catalyst recyclability.
Conclusions
Potential implications of these findings are significant, especially considering that the highly stable, mesoporous glassy catalyst is ideally suited for application in microreactors for carrying out the reaction under flow.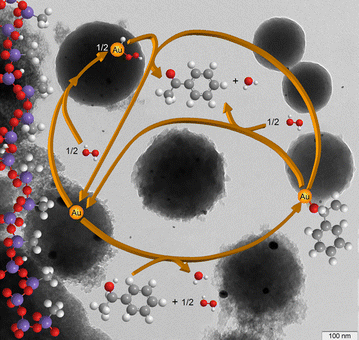 Experimental section
Catalyst preparation
The SiliaCat Au catalyst was prepared via sol–gel hydrolytic polycondensation of tetraethoxysilane/methyltriethoxysilane (TEOS/MTES) mixtures, in the presence of HAuCl4, and PVA as protecting agent. A mixture of TEOS (95 mol %) and MTES (5 mol %) is hydrolyzed by treatment with HCl 0.05 N. A solution of HAuCl4 monohydrate (0.20 g) in 3 wt% aqueous PVA is then added with NaBH4 (0.05 g), followed by addition of the as-obtained Au nanoparticles to the hydrolized silicon alkoxides mixture. Gelation is promoted through the addition of aqueous NaOH. The purple alcogel thereby obtained is left to dry at room temperature and then powdered. PVA was removed by calcination at 250 °C, with the methyl groups in the organosilica matrix being thermally stable [17]. The catalytic load, obtained with an ICP-MS instrument (Agilent Technologies 7500ce Series Spectrometer) equipped with a collision cell, was 0.1 wt% Au.
General oxidation procedure
The oxidation of all alcohol substrates was carried out with aqueous H2O2 (5 wt%) as oxidant over the SiliaCat Au catalyst. No organic solvent was employed and air was not excluded from the reaction mixture. In a typical catalytic run, 5 % H2O2 (18 g) was added dropwise to a suspension of the catalyst (Au 1 mol %) in a mixture of substrate (1 mmol) and deionized water (10 g) contained in a 50 mL two-neck round bottom flask, kept at 90 °C using a thermostatic oil bath. After 3 h the catalyst was filtered and the aqueous reaction mixture extracted with ethyl acetate (EtOAc). The organic phase was then analyzed by GC-FID (Shimadzu-GC 17 equipped with a Supelcowax 10 column) to determine the conversion in carbonyl (or carboxyl) compound. The catalyst was extensively washed (with water and then with acetonitrile), dried at 60 °C overnight and reused as such in a subsequent reaction run.
Structural analyses
The geometric structure of the samples was investigated by X-ray Diffraction (XRD) by using a Bruker D5000 powder diffractometer, equipped with a Ni-filtered radiation of the Cu anode (Cu Kα λ = 1.5418 Å; 40 kV and 35 mA). Diffraction patterns were registered in the angular range 10° < 2θ° < 90°, using a step size of 0.03° and a time step of 3 s. The assignment of the crystalline phases was based on the ICSD database.
The surface chemical composition of the samples was analyzed by an advanced surface-sensitive technique, such as X-ray photoemission spectroscopy (XPS), by using a VG Microtech ESCA 3000 Multilab spectrometer, equipped with a standard Al Kα excitation source (hν = 1486.6 eV) and a nine-channeltrons detection system. The hemispherical analyser operated in the CAE mode, at a constant pass energy of 20 eV Photoemission spectra were collected in an ultrahigh vacuum (UHV) chamber with a base pressure in the range of 10–8 Torr during data collection. The binding energy (BE) scale was calibrated by measuring C 1 s peak (BE = 285.1 eV) from the surface contamination and the accuracy of the measure was ±0.1 eV. Data analysis was performed by a nonlinear least square curve-fitting program (VGX900 software) using a properly weighted sum of Lorentzian and Gaussian component curves, after background subtraction according to Shirley and Sherwood [18].
The TEM micrographs were obtained by using a Hitachi H-8100 electron microscope operated at 200 kV with a LaB6 filament. The samples were dispersed in ethanol and dropped onto a Formvar-coated Cu grid and left to evaporate.
References
1.

Hashmi ASK, Dean Toste F (2012) Modern gold catalyzed synthesis. Wiley, Weinheim

2.

Ciriminna R, Della Pina C, Falletta E, Teles JH, Pagliaro M (2016) Industrial applications of gold catalysis, Angew Chem Int Ed doi: 10.1002/anie.201604656

3.

Tojo G, Fernández M (2006) Oxidation of alcohols to aldehydes and ketones. Springer, Berlin

4.

Ciriminna R, Pandarus V, Béland F, Xu Y-J, Pagliaro M (2015) Heterogeneously catalyzed alcohol oxidation for the fine chemical industry. Org Proc Res Dev. 19:1554–1558

5.

Smith MB, March J (2007) March's advanced organic chemistry: reactions, mechanisms, and structure, 6th edn. Wiley, Hoboken, pp 1703–1786

6.

Campestrini S, Carraro M, Ciriminna R, Pagliaro M, Tonellato U (2004) Alcohols oxidation with hydrogen peroxide promoted by TPAP-doped ormosils. Tetrahedron Lett 45:7283–7286

7.

Reichert U (2009) For a thorough discussion on this important topic, see: implementing the guideline on the specification limits for residues of metal catalysts or metal reagents (EMEA/CHMP/SWP/4446/2000), Rheinischen Friedrich-Wilhelms-Universität Bonn, Bonn

8.

Ni J, Yu W-J, He L, Sun H, Cao Y, He H-Y, Fan KN (2009) A green and efficient oxidation of alcohols by supported gold catalysts using aqueous H2O2 under organic solvent-free conditions. Green Chem 11:756–759

9.

Ciriminna R, Fidalgo A, Pandarus V, Béland F, Ilharco LM, Pagliaro M (2015) New catalyst series from the sol–gel-entrapment of gold nanoparticles in organically modified silica matrices: proof of performance in a model oxidation reaction. ChemCatChem 7:254–260

10.

Pagliaro M, Ciriminna R, Wong Chi Man S, Campestrini S (2006) Better chemistry through ceramics: the physical bases of the outstanding chemistry of ORMOSIL. J Phys Chem B 110:1976–1988

11.

Kiyonaga T, Jin Q, Kobayashi H, Tada H (2009) Size-dependence of catalytic activity of gold nanoparticles loaded on titanium (IV) dioxide for hydrogen peroxide decomposition. ChemPhysChem 10:2935–2938

12.

Pagliaro M, Pandarus V, Béland F, Ciriminna R, Palmisano G, Demma P (2011) Cara, A new class of heterogeneous Pd catalysts for synthetic organic chemistry. Catal Sci Technol. 1:736–739

13.

Moulder JF, Stickle WF, Sobol PE, Bomben KD (1995). In Chastain J, King RC (eds) Handbook of X-Ray photoelectron spectroscopy, Physical Electronics Inc., Eden Prairie

14.

Avnir D (1995) Organic chemistry within ceramic matrixes: doped sol–gel materials. Acc Chem Res 28:328–334

15.

Zhang N, Han C, Xu YJ, Foley JJ IV, Zhang D, Codrington J, Gray SK, Sun Y (2016) Near-field dielectric scattering promotes optical absorption by platinum nanoparticles. Nat Photon. 10:473–482

16.

Ciriminna R, Pandarus V, Béland F, Pagliaro M (2016) Fine chemical syntheses under flow using SiliaCat catalysts. Catal Sci Technol 6:4678–4685

17.

Zhang Z, Tanigami Y, Terai R, Wakabayashi H (1995) Preparation of transparent methyl-modified silica gel. J Non-Cryst Solids 189:212–217

18.

Briggs PMA, Seah MP (1990) Practical surface analysis. Wiley, New York, p 181
Authors' contributions
RC and VP devised and carried out the catalyst preparation, RD and AS performed the catalytic experiments, MPC conducted the XPS and FG the X-ray analyses. FB and MP wrote and reviewed the manuscript. All authors read and approved the final manuscript.
Acknowledgements
This article is dedicated to Professor Alexandra Fidalgo Abrantes (Universidade Europeia, Lisboa) for many years of fruitful co-operation in sol–gel materials and natural products research.
Competing interests
The authors declare that they have no competing interests.
Rights and permissions
Open Access This article is distributed under the terms of the Creative Commons Attribution 4.0 International License (http://creativecommons.org/licenses/by/4.0/), which permits unrestricted use, distribution, and reproduction in any medium, provided you give appropriate credit to the original author(s) and the source, provide a link to the Creative Commons license, and indicate if changes were made. The Creative Commons Public Domain Dedication waiver (http://creativecommons.org/publicdomain/zero/1.0/) applies to the data made available in this article, unless otherwise stated.
About this article
Cite this article
Ciriminna, R., Pandarus, V., Delisi, R. et al. Sol–gel encapsulation of Au nanoparticles in hybrid silica improves gold oxidation catalysis. Chemistry Central Journal 10, 61 (2016). https://doi.org/10.1186/s13065-016-0208-6
Received:

Accepted:

Published:
Keywords
Gold

Nanoparticle

Alcohol oxidation

Hydrogen peroxide

Sol–gel